Bootstrap Vs Foundation: which is better to use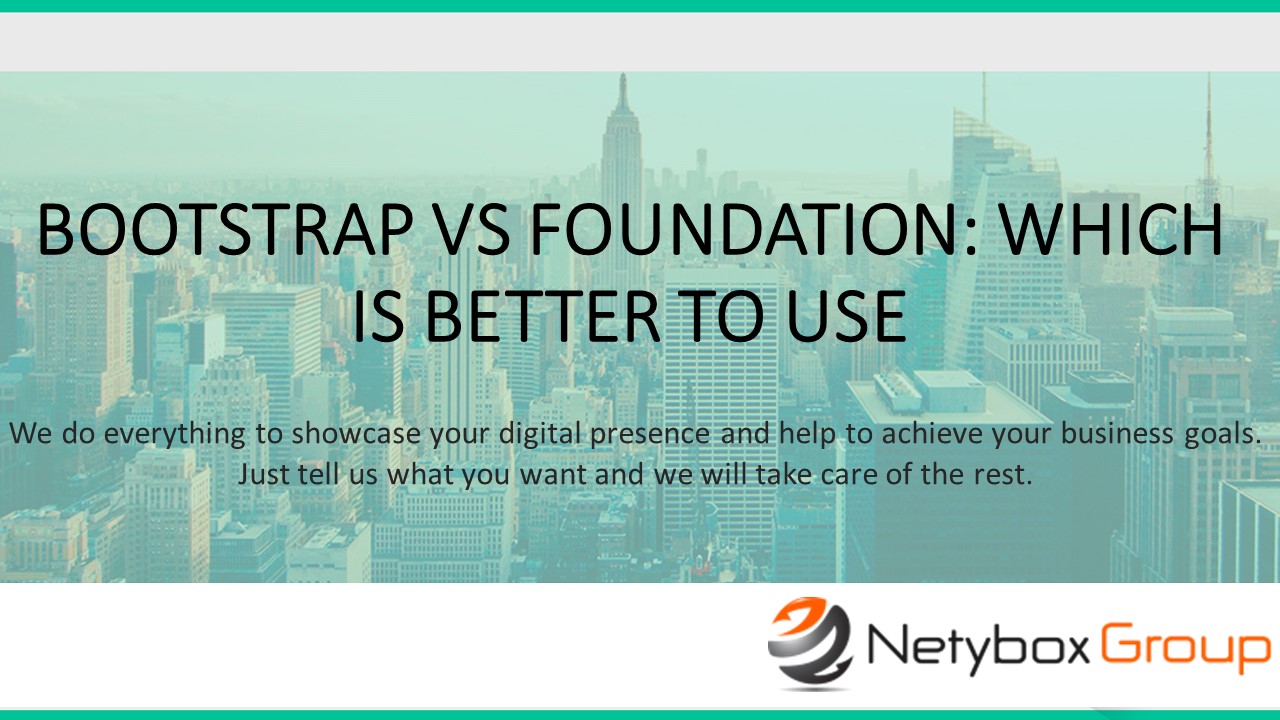 Nowadays, many frameworks are good enough to fulfill whatever needs you want to have in web development. It totally depends on which environment you feel more suitable. Thus whatever you prefer to put it to use is absolutely matter of that you enjoy most when using.
Bootstrap and Foundation are the world's most popular front-end frames which are being used by the "bootstrap designer" for creating a new web design project with full-responsive and modern site pattern.
These frameworks are especially suitable for website prototyping and both arrive with ready-to-use components, which speed your work flow process of coding in a seamless way. Additionally, it offers bonuses like ready-to-go CSS components and cross-browser compatibility.
Anyhow, it matters what's best: Bootstrap VS Foundation. Most of elementary features are appeared similar. Only minor distinctions are there in both frames. Let's kick it off on a positive notice with some areas where Bootstrap & Foundation has upper hand.
It's built for developers and designers:
The unique thing about Bootstrap, which allows you to definitely get it, customizes it and petrifies it at a website, thus providing a silver-bullet technology for designers. Simultaneously, there are a few drawbacks for an online designer is that you feel more challenging to make some changes.
Foundation is way better in this perspective and it becomes more flexible platform than Bootstrap by utilizing the mix-ins. It offers you all tools that you need and put it to use straight out from the box to customize things. Foundation approaches encourage guidelines with mobile-first and separation of presentation from content.
Features and components use for mobile devices:
Foundation comes with a turnkey solution for creating responsive content for the media too. You can use Interchange to recognize different images for different media quires rather than downloading the same size image on all devices. Further, the interchange provides you silver-bulletin solution for responsive images in situation of your requirements and offers you useful features like pricing, tables and off-canvas navigation.
There is no argument in Bootstrap with responsive design and its correctly matched to prototyping and building sites with a theme rapidly. Moreover, it makes easy that you can add responsiveness to elements such as object, embed and iframe by using responsive embeds. Yet it doesn't really optimize content for all mobile devices.

Personalization:
Bootstrap offers you all you need to get a site up quickly, while Basis tends to provides good environment for customization. Although it's possible to personalize with Bootstrap, which takes less effort to get your site to not seem like other Bootstrap sites. An out-of-the-box CSS design looks good straight away with the inspiration. But there is no need to customize too heavily.
Bootstrap helps even non-designers to see something professional. The foundation will be the best platform for browser defaults in numerous cases with less personalization work. A unique thing that impressed me about Bootstrap, it lets you update to future versions of Bootstrap without breaking your custom stylesi.
Sizing units:

Bootstrap totally depends upon pixels while Foundation depends on rems, during the process of determining widths, typography and the rest. A unique thing between the two frameworks is operational distinctions and has ability to generate the same results.
Pixels are much familiar to both web designers and graphic performers. Yet I would recommend you to go for rem unit, which helps you in think in need of proportions. This will depend totally centered on your requirement work. Bootstrap may be the best option for you if your work will depend on pixel foundation.

Grid system:

It is one of all prominent key features for both front end frameworks. Designers and designers can utilize this primary feature to make changes with confidence and modele layouts. The foundation will be as ahead of the competitor in this domain and the very first framework, which enter into responsive in a short period.
Anyways Bootstrap plays a important role in this field now. Only the difference does not have on creating syntax plants, so it totally will depend on personal activities of programmers but as the final result will be same in the frameworks.
Final Ideas:

As a discussion, Bootstrap and Foundation ensures better performance and good web browser compatibility in web development field and a great match for developers. Whatever it can be difference lacks on reliant on the context. Creator can prefer Foundation, if they feel on mobile experience. Otherwise go for Bootstrap if you need website without much personalization.